As mentioned previously, spring and summer are on their way. It never hurts to have some casual foot wear to wear with jeans, lightweight trousers, or shorts. While not appropriate for a suit, these loafers from the Heritage Research x Grenson collaboration look great for most guys who don't have to wear a suit every day. Red brick has seen some time in the sun, and I'm sure you've seen other sand suede loafers with a red brick sole, but blue soles are often paired with garish uppers. With an upper that is toned to match the navy sole, the navy colorway Grenson offers is a great way to mix it up without blinding every one.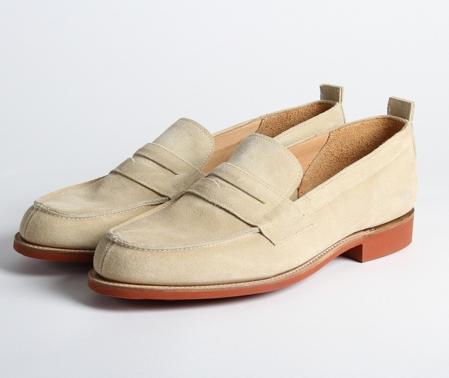 Each loafer is outfitted with a Danite sole and are ready for some summer stomping.
Some would argue that Grensons are too bulky, which may be true, but the bulkiness allows for a wider pant leg. So if your leg opening is 16" or 17", I can't think of a better loafer for you to purchase.
Available at Grenson.
-Frances