Denim suits are dumb.
So is this one, in the practical sense.
Taylor Stitch has a
denim
suit
for something like 350 of only slightly inflating dollars.
You could, and should, wait this one out.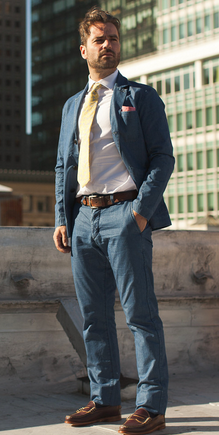 The blue is the blue of pleated denim.
See there, I didn't even have to give you a value judgement for the pleated denim and you got the value associated.
Yet, as I sneer, if you wore this, my third party would slow clap. Maybe.
Dress like a dork. Dress like a professional bocce ball player. Dress like you drive a '93 LeSabre and smoke grape cigarillos -- but not in the house for either of those activities.
Dress like those things
here
.
Don't worry, we definitely won't be wearing the same thing if we see each other in public.