#menswear is marketing. It's marketing in little, personal ways -- there are few large campaigns in #menswear -- but an orange is an orange and marketing is marketing. Ivy Style is a small part of #menswear, a subsection if you will. The men, and some women, who discuss ivy style are marketers with each internet post.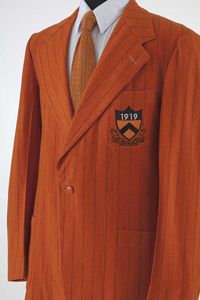 Recently, I attended the Ivy Style exhibit at FIT.
It was fuck-shit-terrible.
There were a few interesting pieces -- I believe "few" is gracious -- most notable were the "Beer Suits" but the rest of it was just marketing.
The topic of Ivy Style was the sartorial notions of the men who attended Ivy League schools in the decade and a half after WWII. There were maybe 30-35 mannequins in the exhibit. Thom Browne outfits were placed on roughly 5 of them. Thom Browne drags Ivy Style into the absurd as he jokes and has fun with his designs. Thom Browne had zero influence on the men of the Ivy Style era. Why was Thom Browne placed on so many mannequins? How does he expand our knowledge of Ivy Style? Don't most jokes -- the sort that Thom Browne makes -- need a cultural background to be understood? Why include so much Thom Browne when canonical Ivy Style is so underrepresented?
I cannot imagine that footwear from the Ivy Style "era" is that difficult to procure. Why did they use McNairy shoes on over half the mannequins?
The write-ups on each mannequin were brief. I would have preferred more extensive information on each piece but c'est la vie.
The Ralph Lauren brand wasn't established until 1967, after the Ivy Style heyday. Ralph Lauren pieces were a large number of pieces in the exhibit. Why was this so?
Modern pieces do not expand our knowledge of the time period. Modern pieces appear to be there to be sold.
The Ivy Style exhibit seemed to be more crass than the personal marketing that #menswear is used to.
If you happen to have a "brand", take note: a museum exhibit shouldn't be a commercial.
NOTE: I don't know anything about museum curation. Maybe my judgement is horribly wrong. If you are an expert in museum curation and know that my opinion is weak, please email me so that I can make amendments.