Let's take a theoretical world. Everyone dresses in a uniform 1984 style. None of this personal style crap, just clean cut. Take American individualism and the desire to consume differently than others out of it. Everyone eats the same food, wears the same briefs, and wakes up at the same time every morning. Then, out of somewhere awesome, someone starts to do things differently. Underwear is put on backwards, cookies are for breakfast, and said person rolls out of bed at noon; just in time to miss the staff meeting.
Unfortunately, this is not where menswear has come from the past few years. Uniforms? They're out the window. Individualism? It's rampant to the point of bad taste.
Collections tend to want to progress with the male. They take him from his basics one season, onto the stripes and patterns the next. They seem to be trying to help him build his style. Here's the problem. People buy individually, and buy into the advanced seasons, thus missing the point of actually building the basics. JCrew falls into this problem this season.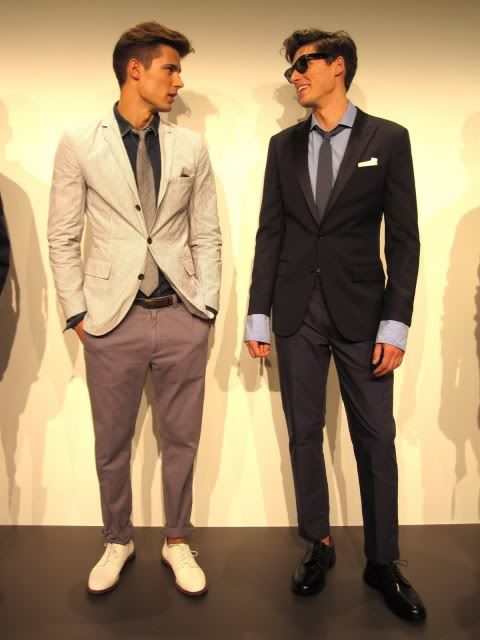 Credits to
SF
Awkward three button or 3/2 roll jackets (they're loosely ironed, meaning that you should be individual and unkept), tuxedo orphans, and silly hipster hoodies abound.
All this? All this would be great if menswear were coming from that theoretical world described above. As mentioned previously, it's not. It's coming from a world where men wore whatever they wanted. And now if they wear a collar, it's quite the step up. Dressing like Frank suggests isn't much more individual than wearing flippy flops and a trucker hat. Sprezzatura is not going from Threadless t-shirts to undone french cuffs flopping around your wrists. It's not mismatching a tuxedo jacket with your pants. It's not throwing a bunch of crap together because the male should be an individual.
Brands like JCrew need to spend time perfecting the basics. It's not going to happen after one season. It'll probably take five.
Maybe menswear needs to spend some time in North Korea.