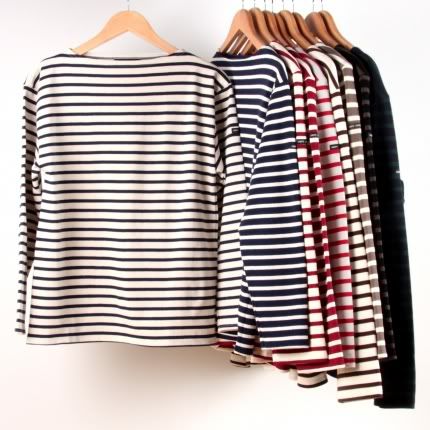 The style blogger skipped down the street confidently in his St. James boat neck. He was super proud of it 'cause of the picture he had saved of James Dean wearing the same thing. The sun peeked from behind a cloud and rushed down, to slob over the blogger's neck, intent on leaving a June hickey. The blogger embraced the sun's warmth and picked up his step even faster. He was, to quote, 'walking on sunshine'. A man with in French-esque garb on a silly motor scooter drove by and shouted, "Vous sale garce, me donner un baiser mouillé!" Confused, the blogger skipped on. Feeling a smoke, he pulled up on a porch outside an apartment, yanked a cigarette to his mouth. A woman opened a window on the second story, looked down, and yelled at the blogger, "Ne restez pas sur mon porche, femme pirate!" Shocked, the blogger walked off the porch and almost collided with a man riding a bicycle with a basket on the front, which happened to be full of baguettes. The man swerved to the right, as the blogger spun in a circle, similar to the Saturday morning cartoons. The cyclist had a thin mustache and wore a beret. "Hors de mon chemin, la femme de la rue!" He shouted at the blogger.
Which was odd, this was Boston. Why was everyone speaking what sounded like French? Questions swirled in the blogger's mind, taking him away from his self-absorbed confidence. He moved along, oblivious to everything else, absorbed in his confusion. His mulling was broken when the sidewalk opened up to reveal a gaping mouth, which looked to be a hole to China, for all he knew. And the mouth moved it's concrete lips, with a low Snuffleupagus whine, he spoke to the blogger, "Oh mon dieu, quelle fille chaude! Je pourrais vous manger pour le dîner!!"
Which the sidewalk did, as he grabbed the blogger by the foot, and swallowed him whole.