Mark McNairy has been in full-swing for some time now. Basic blahblah bucks and classics introductions stand aside, as I'm assuming you know a general outline of his work by now. The question is: can he remain in full-swing? Can he, like he once claimed, "take it to the next level" above Ralph Lauren. Perhaps he will. We will probably see whether he can or not in the next two years. However, looking at his past work, we can see how adaptive he has been since he started at JPress and make conjectures at his ability to be beyond trends.
It should be noted that McNairy had a history before JPress. It was with Finis, a women's sportswear line in the late 80s and early 90s. I've been trying to find various imagery from his time there but the internet has failed me. He showed up in a
NYT piece
during his period there. The article is discombobulated and makes little sense. I hope I write more clearly than Woody Hochswender but the breaks make me think the article may have been broken apart before uploaded to the internet.
In between Finis and JPress, McNairy lent his services to
68 & Brothers
and
SHIPS
. I haven't been able to identify any of his work for either brand (
this
looks highly suspicious but I'm not going to make wild claims just because there's a SHIPS 3 button sack jacket on SF from a few years ago). Both labels are Japanese which is why in many early interviews (as in mid to late 2000s) he cites Japan as one of his primary markets. I'm sure you've seen some SHIPS stuff at some point. The
2011 S/S
lookbook contains some shoes reminiscent of McNairy. Or perhaps more than reminiscent if you attribute the revival of the chunky leather dress shoe to McNairy. Well, him and Tricker's and those english blokes who take shots at US menswear because we're kinda' flighty.
68 & Bros is more of a page out of McNairy's book, with baggy military cargos and coaches jackets sold alongside oxfords and madras tote bags. McNairy once described his uniform as a thrifted BB oxford button down, military chinos or the like, and a pair of well-made shoes. Both 68 & Bros and SHIPS either heavily influenced McNairy or McNairy heavily influenced them. I'm guessing the latter though I will attest that the oxford/military pant/heavy shoe look is not exclusive to McNairy. [However, given his description in the 1990 article, he has been doing it for sometime].
Named the creative director at JPress in 2005, a portion of people would say that McNairy reinvigorated the brand. He took the ivy look that old men had been shopping for years, threw in the signature 'fuck you' and ran with it. He managed to keep the typical JPress customer (old dude) and attract new ones by going back to the basics. He continued to offer the consistency that had kept many men coming back to JPress for years and he also offered the, now cliche, old with a twist. If you noticed, he kept the JPress demand high by not over doing the production runs of the "twisted" garments, a model brands like Supreme prescribe to like Prozac. The non-staples were never on shelves long enough to cause brand stagnation because consumers liked the stuff enough to wash the slate clean every couple months.
It is fair to say that McNairy knows prep, as he name drops Ben Silver (a well kept secret or a shitty internet precense) and nails the difference between northern and southern prep in a
food interview
. He took this knowledge and applied it to JPress. His work at JPress appears to be much more of the old McNairy from his NC upbringing than the workwear that we've seen him occasionally produce.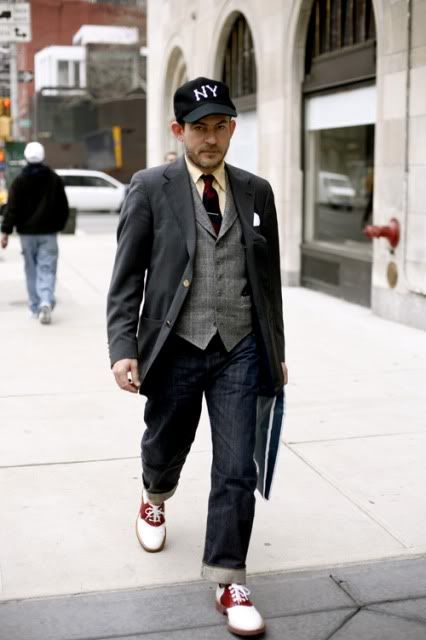 While at JPress it should be mentioned that he never succumbed to the 'skinny jean' fever, as you notice the stuff JPress offered was never slimmed down (UO collab doesn't count). Perhaps fit was messed with slightly, but it still resembled a sack of potatoes. McNairy, at this point in time, could be called ahead of what is now considered a trend (that is, thick shoes, heavy khakis, and oxfords).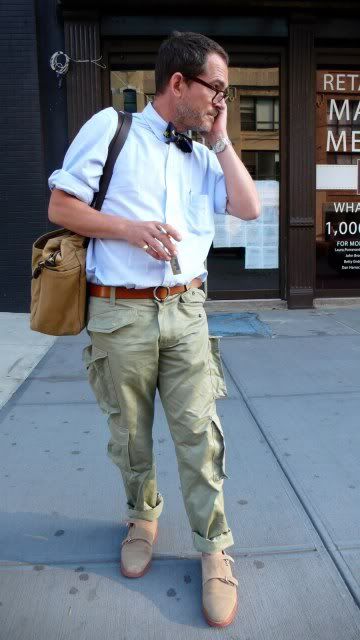 McNairy also said, "SID MASHBURN IS A CUNT. SPREAD THE GOSPEL." on AskAndy. McNairy, a loose cannon, was probably what JPress, previously sleepy and uncharming, needed.
From here, we all know what happened, he worked with Bass, Walk-Over, Pro-Keds, Engineered Garments, launched McNairy New Amsterdam, and attained the throne of designing WWM. He made the buck really popular and started to incorporate a lot of what appears to be a streetwear/workwear hybrid into his New Amsterdam work. The buck has now attained a streetwear status as it is paired with camo cargos and chambray. Recent photos of McNairy's work show a New Era logo hanging off of a heel of a navy buck. McNairy has taken the new project of working with Timberland and he appears poised to take Timberland boots back to the status they once held.
Will McNairy's work get sucked into the played out? He is doing a ton of work currently and oversaturation ought to be a concern.
I think not. Here's why.
Mark McNairy knows how to adapt to just about anything but one thing stays the same: the unique McNairy fit. He has shown himself able to do prep, workwear, streetwear, and a little bit of Anglo-Italian. Occasionally McNairy will swing to slim but he regularly keeps things mid to loose fitting. He is never skinny. He does himself and doesn't chase trends (see his desire to bring bucks back in interviews previous to bucks actually being back via his mentioning that no one sells bucks anymore) but also knows to listen to the sales (see JPress knit ties). He is very much like the decade-crossing-hip-hop stars, even to the extent that he makes clothes that they would have worn and are wearing and will be wearing. He does himself while keeping his ear to the ground. Rappers who want to stay in the game know that adaptability and knowing their self is key. It's not about staying relevant, it's about knowing you're going to stay relevant. So does McNairy.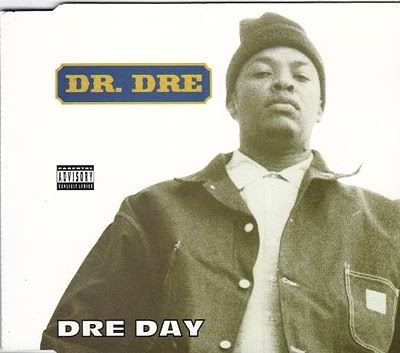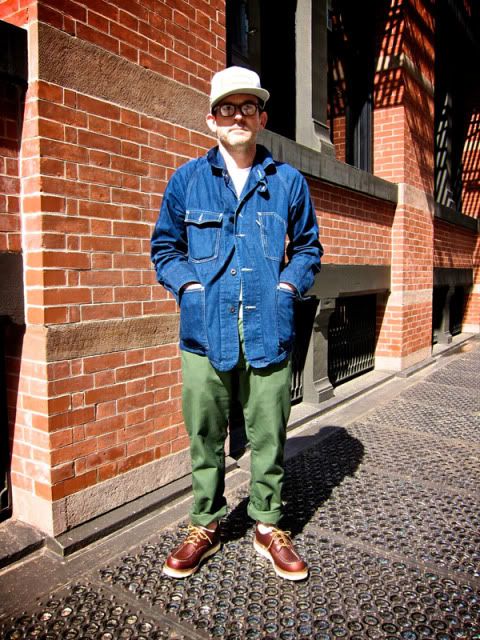 [See there?]
McNairy works with brands at all sorts of price points. Pro-Keds was <$100. Much of his own line is >$200. He keeps himself fresh by working with classics other than the previously transversed (see Timberland and the what I would consider new classic, New Era). Some would say that McNairy is just feeding us the same crap we were fed for the past 50 years. I believe that is culture's problem, the one where we have trouble creating new art, and not McNairy's. Bug off. He's a lot better at feeding us the same crap than many others.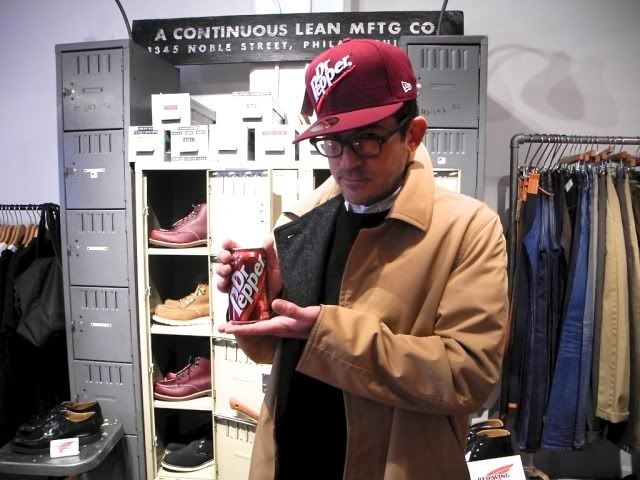 [Apparently branding is OK if it's done ironically?]
If one of McNairy's work falls into the over-done it won't matter because his work is so spread out. Spread your cash, man. Don't bank on one thing. McNairy plays this game well.
Sid Mashburn be damned, McNairy will be here for awhile.
[I stole these photos from everywhere. Sorry.]