"Innovation makes menswear go 'round" a wise man once said. I heard it. I was there. Who innovates menswear? College bros, that's who. Visors? Some bro needed to keep from getting hat hair while, at the same time, shade his eyes. Truly, an invention of genius.
Surprisingly, there is an innovation in menswear still waiting for the bros to popularize and permeate into the mainstream. What it is, I am still getting to, but with all the style conscience bros out there, one would have thought that this trend would have already made its rounds to the department stores. Style conscience bros are usually wearing selvedge denim with faded knees because they on their knees all the time (because they're beer bonging... what did you think they were doing?), but like any body else, they gotta' mix it up. Cargo pants are the obvious choice, with all the pockets to carry stuff, and they are popular on campuses. Companies have been producing many high quality cargo pants that have been missing a necessary feature: the butt-chugging fly.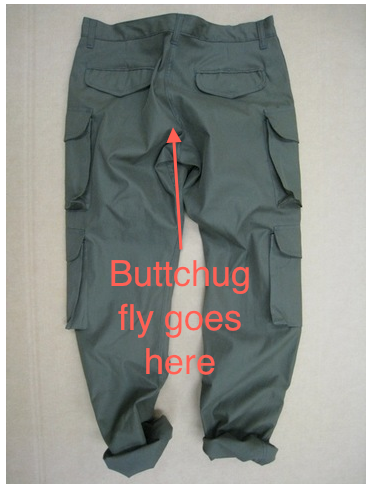 When butt-chugging, no true gentleman should have to remove their pants, so why not make a fly for the funnel? It's perfect. Can't wait to see this in stores F/W 2012.
Photo originally from
Mark McChuggin
Parting thoughts: Sequel? What is this, a Harry Potter fan-fic site?